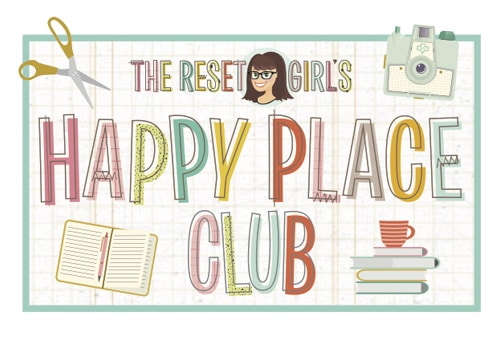 The Reset Girl's Happy Place Club is an uplifting, encouraging and fun online club we hope you will love!
Members share photos of their planners, listing and memory keeping layouts, craft projects and spaces, achievements, self-care routines, tips and ideas, and monthly challenge posts. We encourage members to share a happy moment from their day, something they made or a goal they are working on. Sometimes our joy in the little things needs to be shared to encourage others when they need it most.
Click the button below to join the club and keep reading to find out what we do in the club each month!
#HappyPlaceClubChallenge
Our monthly group activity in the community! This fun set of prompts combines all previous challenges (#ListersGottaList, Self-Care and Planner Stylist) together and provides inspiration, ideas and direction for listing, crafting and self-care in an easy weekly format. No more feeling disappointed when you can't get past day 3 of the daily challenges! Who needs that kind of pressure?
How It Works:
#HappyPlaceClubChallenge prompts are available by clicking here and are posted between the 27th-29th of each month. The challenge is broken up into weeks rather than days. You now have an entire week to complete each group of prompts. If you are feeling especially ambitious, you can complete all of them, if it's a more demanding week, pick just one to complete. You can also choose prompts from each category, or just stick with one category. Pick and choose which ones you want to do all week long, making the challenge fit your schedule and interest.
Note: If a prompt doesn't work for you, just modify it to better suit your circumstance. With so many club members we try to offer what works for the masses, but you are always welcome to put your own spin on things.
Watch the video below for a complete explanation of the printables and prompts (using our Simplicity theme from September) as an example of how it works each month:
Walkthrough of the Challenge Materials
Sign Up for the Challenge!