Inspired to create a fun crafty experience for those of us who would rather stay in than go out on a Friday night, who love to craft in our jammies, and who may not have crafty friends in real life, I launched The Late Night Crafty Club in 2016. Episodes air LIVE on my YouTube channel and there is even a chat room for you to make friends with creatives all over the globe!
Often an episode is me chattering away on a given topic while viewers craft along. Sometimes I have craft ideas for you to complete while you watch, and some episodes come with FREE printables!
Watch previous episodes HERE.
Watching Live
We broadcast the episodes Friday nights at 8pm PST (Pacific Standard Time). The following dates are when the show will be aired: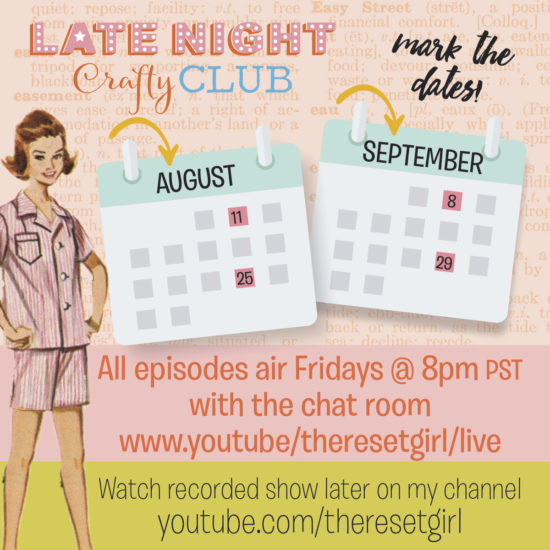 To access the show for live viewings click here.
Want to know what time this airs in your time zone? Use this converter.
If you don't want to miss a LIVE episode, sign up to receive a notification email along with the details of the upcoming episode. Often, episodes include free printables!
Grab a beverage, a craft project to work on and let's get crafty!

Also, be sure to subscribe to my YouTube channel and click the notification bell to be sure not to miss out.
Sad you missed the last LIVE episode? Not to worry friend! Just click below to see past episodes (without the chat room) and see what you have missed out on! I have some fun videos that will inspire you to get crafty, get motivated for change and start down the path of resetting your life:

FREE SWAG!
Guess what else? We made some really fun printables for you to use in your planner or notebook too! There are planner stickers to mark upcoming episodes of the Late Night Crafty Club in your planner, stickers for decorating, a fun membership card, a decal for adding to anything, a label for turning a notebook into a craftybook, an A5 planner page for taking notes during the episodes, a checklist for writing down supplies and stuff you need to get your crafty on for each episode PLUS a cute dashboard embellishment to remind you to keep getting your crafty on! Fun, right?!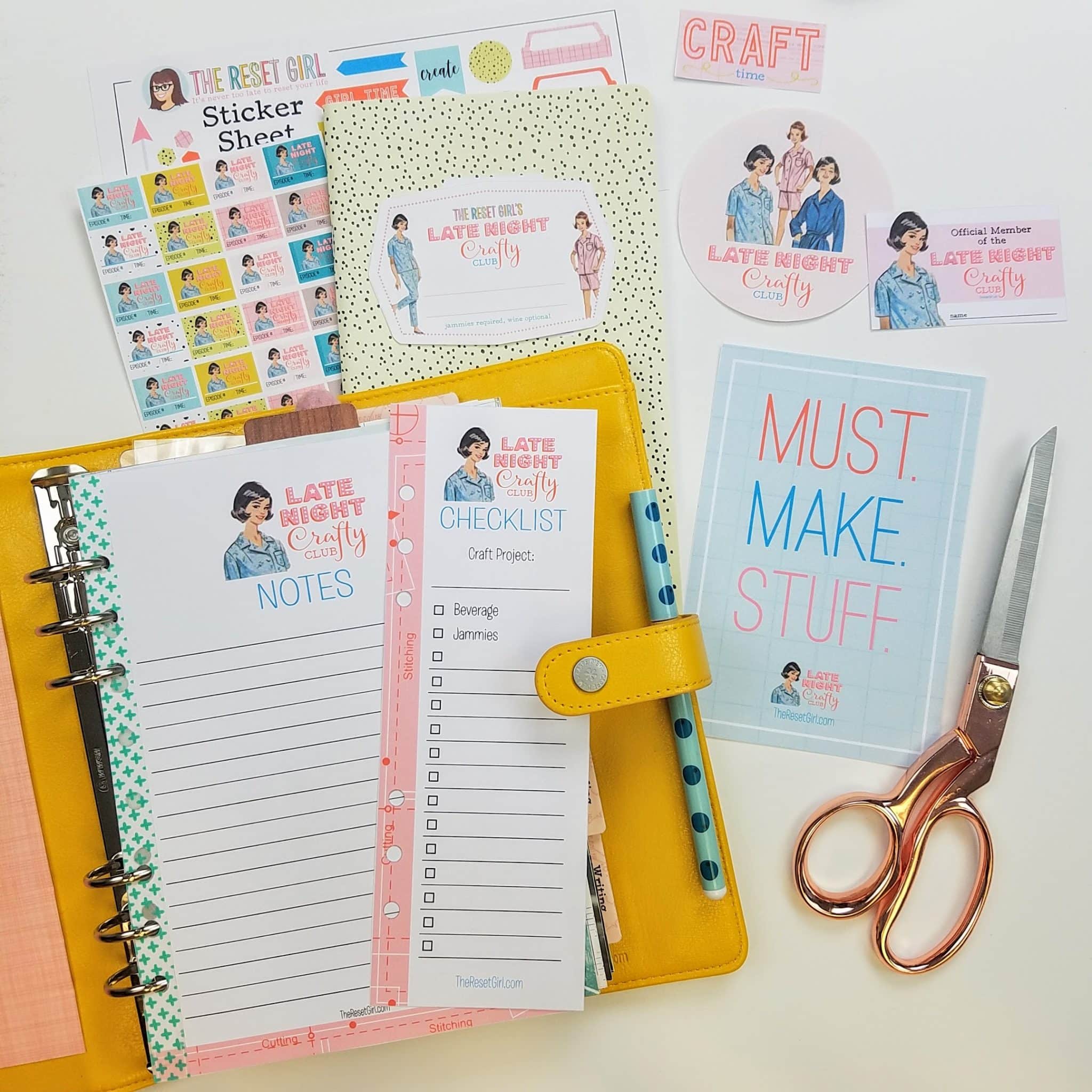 Click the button above to sign up for the episode notifications and to get your FREE Late Night Crafty Printables (otherwise know as swag)!
I truly hope you enjoy watching and are interested in seeing more! If you have ideas for future episodes, please email me and share. Just be sure to put LNCC in the subject line so we don't miss it 🙂
Thanks so much for watching and being part of the Late Night Crafty Club!
Love, Cori