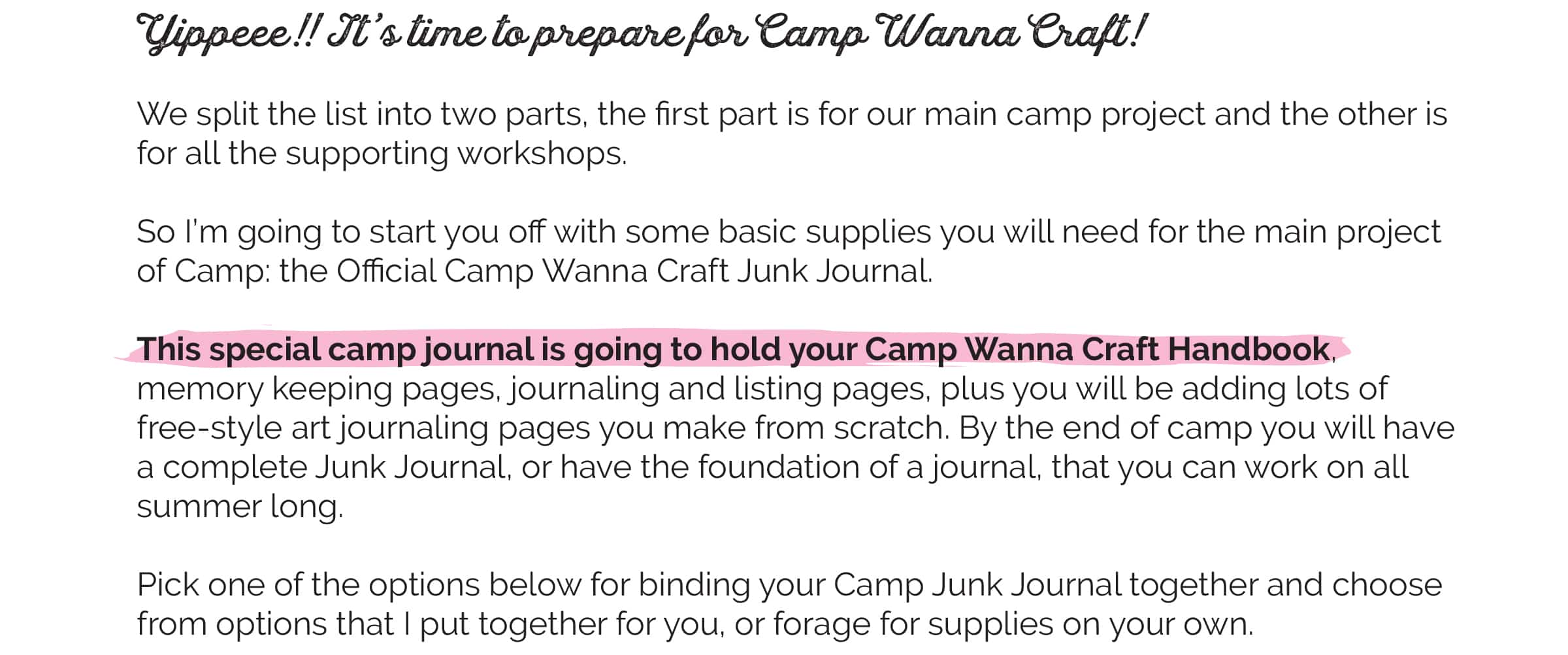 Because there are over 35 classes, listing every single ingredient for each class would be redundant and overwhelming for our campers. To keep it simple:
Products that appear in multiple projects have been grouped together by type.

Some products that are used for special crafts are listed with the workshop video name in some places.

The following product suggestions are either used specifically in the workshop videos or are a reasonable substitution.

Everything used in a workshop can often be recreated in a different way, with a tool you already have or by possibly skipping that step.

We listed the following products for convenience but it is not necessary to buy the same brand we listed, use what works best for your budget.

For some projects, like Mixed Media, we suggest watching the videos first to determine if you have interest in that type of crafting so you aren't investing in products you won't use later.
Remember, you have access to this content for three years, you have plenty of time to come back and watch videos to finish projects later. Please do not feel you have to do all the things and buy all the things.
And always shop your own craft supply stash first 🙂

Paper: 12 x 12 Scrapbook paper, 6 x 8 scrapbook paper, solid cardstock, kraft paper, vintage papers, old book, chipboard (or use an empty cereal box), dictionary and bible you can rip up**
Adhesives (Cori's favorite gluestick, Andrea's favorite glue stick for memory keeping,Double sided tape, foam dots
Cutting tools (good scissors, fussy cutting scissors)
Embellishments: decorative stickers, washi, alpha stickers, paper doilies
Ephemera: scrapbook die cuts, journaling cards, vintage paper bits, library pocket cards
Pen: 03 Sakura Pigma Micron Pen
OPTIONAL: Tiny Attacher Stapler
OPTIONAL: Paper punches: (Tab, 1.25" circle, 1.25" square)
OPTIONAL: Paper trimmer (portable, budget-friendly, full-size guillotine, mini guillotine, mini trimmer)
**Thrift stores are a great place to find old books like these on the cheap!

In addition to items in the General Craft Supplies, the following items are suggested or used:
Printing Mediums (ink jet vellum, ink jet acetate, Avery matte sticker paper)
Cutting Tools (good scissors, fussy cutting scissors, craft knife, cutting mat)
Storage Ideas: Toiletry travel bags like these or this, pencil pouches, accordion file folder or this one)
Printables Used: Wanna Craft Collection + Mr. Crafty's Camp Kit 
Divider Supplies: White Coated Chipboard, Artificial Grass, Cork

There are a LOT of different products used in these weeks, don't feel you have to buy all the products listed. I generally watch videos first and then buy what I think I need. I use Amazon for most of my shopping but feel free to use a coupon at your local craft store as much as possible. TIP: Buy cheaper versions of brushes and tools before jumping in, you can always invest in better supplies if this ends up being a passion for you!
Paper: (Good) Mixed Media Paper Pad OR (Bettter) Mixed Media Paper Pad
Mediums: Clear Gesso, gel medium or modge podge, modeling paste, acrylic paints, alcohol inks
Art Crayons like: Vicki Boutin or Gelatos or Caran D'Ache or Mont Marte, oil or chalk pastels
Mixed media stencils like this or this and stencil brushes (or a makeup sponge)
Paint: Watercolor markers or watercolor palette, watercoloring brush pens (this was moved), assorted paint brushes set
Sewing/Stitching: Twine, 2" x 24" fabric scraps, cross stitch needles, embroidery floss,
Stamping: clear acrylic stamp sets of your choice, clear acrylic blocks, stamp pads (chalk is preferable) or regular dye ink pad you already have like Staz-On or Tim Holtz Distress
DIY Stamp Making: Self-Adhesive Foam Sheets and rubber brayer
DIY TN Supplies: Laminating Pouches, Avery Labels, 2mm elastic cord, (OPTIONAL) Grommet + Eyelet Setter Kit, booklet stapler
BONUS Craft Vintage Junk Journal: Little Golden Book, 1" binder rings, heavy duty punch, craft knife, cutting mat
Printables Used: Wanna Craft Collection (releasing May 25th)+ Mr. Crafty's Camp Kit (releasing June 1st)
OPTIONAL: Non-Stick Craft Mat  


All Supplies listed for these workshops are repeats from Week 1-4 and from the General Supplies List.
Embellished Clips: 2  jumbo paper clips, charm
DIY Pocket page: Fuse tool, pocket page, sequins, washi, Honey printables
DIY Flowers: 1.5" scalloped circle punch, 1.25" or 1" circle punch, enamel dots,
Printables Used: Wanna Craft Collection (releasing May 25th)
Honey Dolls: fabric scraps, enamel dots, colored pencils, scrapbook paper, vellum, Honey Doll printable
Journaling cards, washi, twine