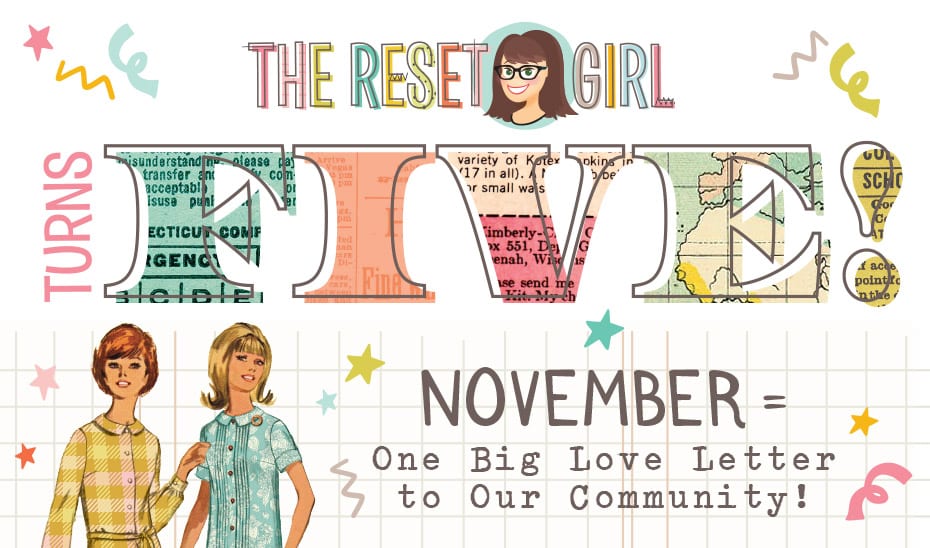 Can you believe it's been 5 years?
A couple months ago I did the math and realized The Reset Girl has officially been a thing 5 years this month. It made me ponder all the events that have transpired over the last years and how much this journey has grown me as a person.
I am forever grateful to SO many of you who have supported our brand through purchasing our products, attending our LIVE events, participating in Camp and/or always leaving comments/love.
When I started my Instagram channel 6 years ago I had no idea that a passion for planners would lead me to discovering a burgeoning community of like minded ladies. And through that avenue I was able to share my creative ideas and do what I love most: encouraging others.
There are so many things I have gotten to do or create over the last 5 years, that it just makes my heart spill over with all the goodness. My platform grew so quickly by introducing different things like ListersGottaList, the Midori 101 video on YouTube, my own sticker shop and later, my own planner collection that debuted at the National Stationery Show in NYC, and later sold into Hobby Lobby and other fun stores, to be a speaker for the first time and then become a key note speaker for the first national PlannerCon alongside Erin Condren (and with an awesome photo booth for photo ops!), hosted Silhouette America in our home and introduced the planner community in a video they later used in Hawaii at their product show, and have gotten to host a crafting cruise of over 110 ladies, ending it with an epic dance party in our jammies. I have gotten to teach my planner workshops across the country, starting in Florida and then from my home state to my adopted state, from Wisconsin to Missouri to Bellagio, Italy and many more..and even from a warehouse filled with vintage campers.  I have trekked across Tokyo with some you in search of the stationery of our dreams. I have been your camp director for our beloved make believe camp and have gotten to laugh along with you over so many of our now inside jokes. I have invited you into my home to craft in our jammies on Friday nights, and asked you to pray alongside me in my Chapel crafting show. We have played in our Crafty Club PlayBooks and sung along to our favorite clapping song….and all of this I owe to you. 
I may have endured some bumps and bruises along the way, but when I sit back and reflect on all the sweet messages, cards and comments you have sent me over the past 5 years, I know it was all worth it to be where I am, and to have created this place that has meant so much to you and for that I am truly grateful. 
I know many of you have felt drawn to the light of this community and enjoy having a special place to draw your chair up to and cozy up with us. This is a place to stretch those creative wings, share your triumphs and to feel like a 12 year old girl again…giggling with your friends and feeling a sense of belonging we may not have felt as kids.
It is my honor to host both our crafting and our faith communities, to cultivate a sense of family and to keep evolving this platform as a place for you to feel magic and surprises we so seldom get to enjoy as adults.
You are my people. I am so blessed to have you here. Thank you from the bottom of my heart for knocking on the door of The Reset Girl's Club House and coming on in. May we be friends forevermore ❤❤❤
+++++++++++++++++++++++++++
The first week of our month officially kicks off on Monday, November 4th and we have four full weeks of goodness to come!
Love your faces more than you can imagine,