It's the most magical season of all: fall. Who doesn't love the colors of the turning leaves, the crisp air and the need to cozy up in all things soft and warm? With the weather turning cold and rainy (at least where I live!) it's the perfect season for binge watching Netflix shows or  fun movies to get you in the autumn mood. I scoured the internets and put together my list of favorite fall-ish movies (some aren't seasonally fall in the strictest sense, but give off that cozy aesthetic nonetheless) plus those that are widely named as the all-star draft choice of fall movie lovers.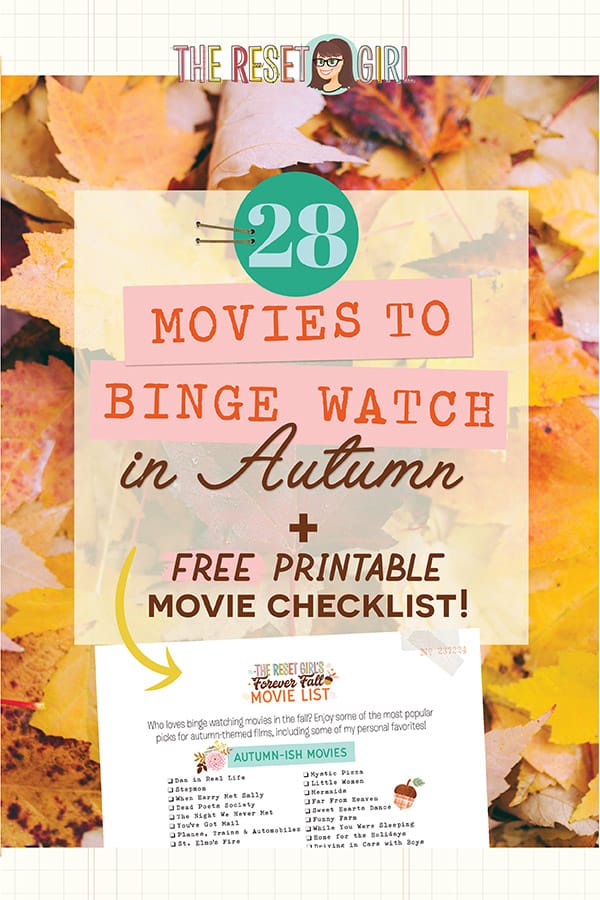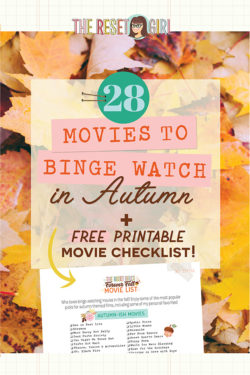 At the end of the list you can grab my downloadable freebie checklist to help you plan your next fall movie session and keep track of what you've watched. Double-prizes: I also included a list of my favorite not-super-scary movies that are perfect for a slightly less spooky Halloween movie session.  Just click the button below to download and print your checklist!
Stepmom
Dan in Real Life
When Harry Met Sally
Dead Poets Society
The Night We Never Met
You've Got Mail
Planes, Trains and Automobiles
St. Elmo's Fire
Rudy
October Sky
Good Will Hunting
Fantastic Mr. Fox
The Blind Side
Remember the Titans
Mystic Pizza
Little Women
Mermaids
Far From Heaven
Sweet Hearts Dance
Funny Farm
While You Were Sleeping
Home for the Holidays
Driving in Cars with Boys
Indian Summer
One True Thing
Labyrinth
All That Heaven Allows
The Trouble with Harry


Happy fall movie watching Reset Family!