Hey hey crafty friends, its Caroline here!  I'm so excited to share a little bit about myself.
I'm originally from Michigan but currently live in Washington state with my husband, son and
two fur babies.  I also have two stepsons; however, they live in another state. We are a fun
family of seven and there is definitely never a dull moment, but I wouldn't have it any other
way!  Our house is full of music, movies and creativity, as we enjoy all three.  It's also full of
thrifted and antique treasures, that I can't seem to get enough of, but that's another story…
LOL!
I've always had an interest in arts and crafts.  I took a variety of art classes from middle school
through college; however, it wasn't until around 2004 that I started scrapbooking.  From that
point on I began memory keeping.  Over time, I've explored different types of memory keeping;
from traditional layouts, to mini albums, to home décor pieces.  I love thinking outside the box
when it comes to paper crafting/creating!  My style has changed a bit as well over the years, but
I've always loved the eclectic!  I like to think of myself as a vintage, eclectic maximalist and I
think it shows in my work.  I love searching for just the right pieces for each of my creations and
this often leads to quite the chaotic mess in my craft space!  However, just for you, I've cleaned!
Embellishments aside, I'm a creature of habit when it comes to my creative tools.  I have an
inexpensive Fiskars guillotine paper cutter that I love, my trusty fussy-cutting scissors from Tim
Holtz, my pink ATG tape runner from Scotch (with coffee stains on it) and my tiny-attacher (also
from Tim Holtz).  These four items can get me through nearly any crafty endeavor, and I'd be
lost without them!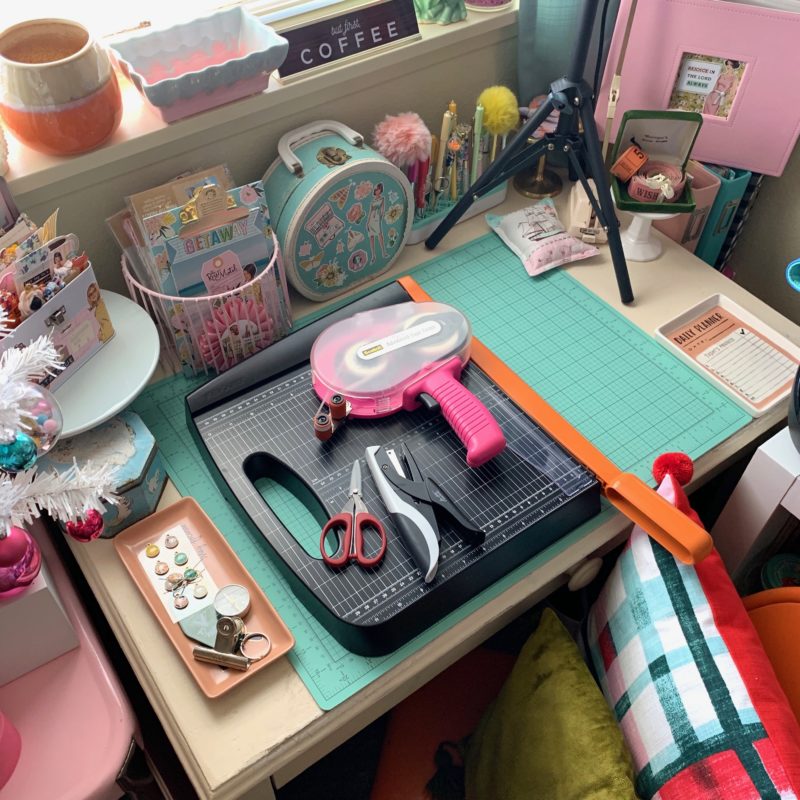 The Reset Girl and I go back a few years.  My dear friend, a local scrapbook store owner,
introduced me to The Reset Girl's stickers and I was hooked!  I've loved attending camps and
creating with the gorgeous printables.  I'd have to say that the Honeys are my absolute favorite
and I tend to use them in almost all of my craft room décor pieces.
With all of the printing and cutting I do; storage is something I've struggled with.  I've tried
accordion folders, binders with sheet protectors and piles on my desk (and bookcase, and chair
and floor… LOL!)  However, I think I've finally found what works for me.  I've been using these
adorable pink plastic snap envelopes for a few months and I really like them!  You can find them
at office supply stores, even Walmart!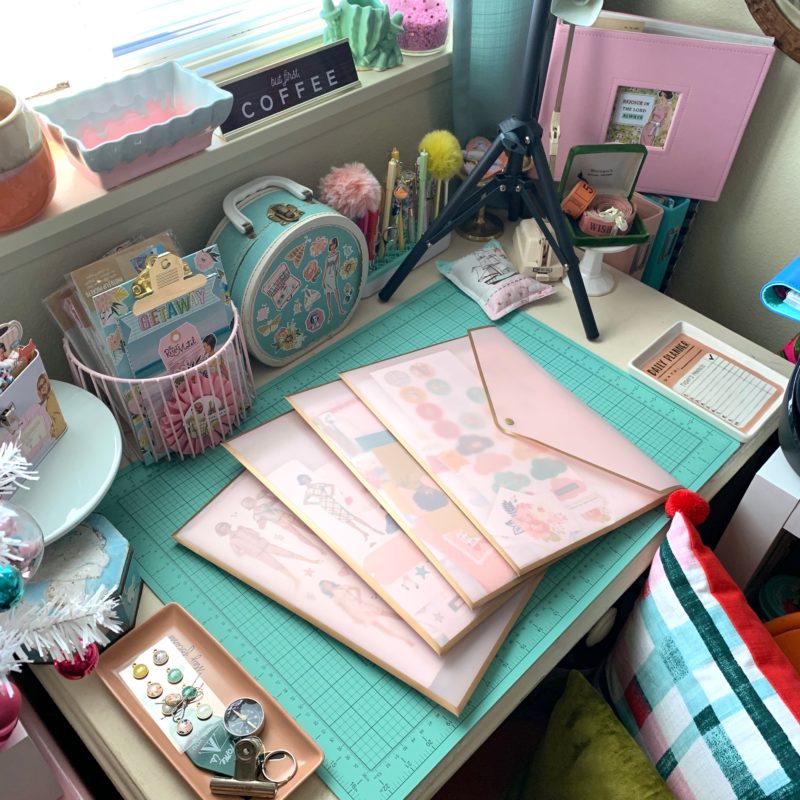 Thanks so much for stopping by, I've really loved sharing with you!
See you around the Crafty Club 😉