I just finished reading my last daily reading for the year and I feel like doing a touchdown dance! At the start of the year, I began reading the Bible daily using this Daily Bible. I love that you to read part of the Old Testament, the New Testament plus a Psalm and Proverb each day. There is even a short little devotional at the end of each reading. Normally this would take about 20 minutes to read each day unless I began chasing rabbits and turning my reading session into more of a study session. 
This is my second official journey through the Bible cover to cover, the first being over 10 years ago. I felt like I was reading some things for the first time and some things were so exciting or amazing I had to highlight it AND write it down. It's amazing how often you can read the Word and still discover something new each time you read, it's like admiring all the facets of a sparkling jewel. 
Being in the Word every day was my big faithful goal this year and although I didn't manage it every day (Camp Reset kinda derailed me a bit), I did catch up in the end. 
And now I am all ready to jump in again for 2019!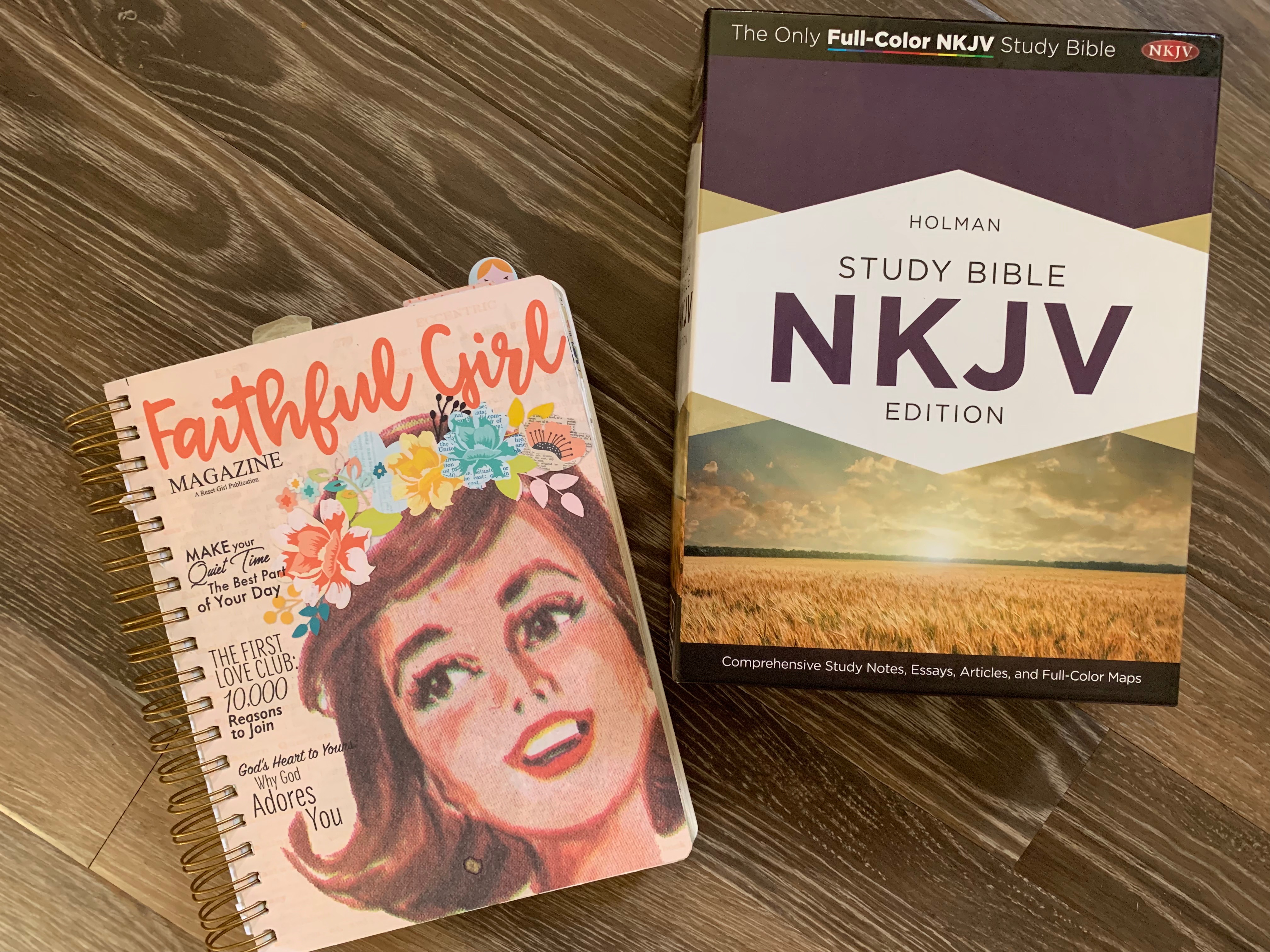 I am going to read through the Bible again using the Fast and Slow Method that my friend Kari shared with me. I even decided to start with a brand new study Bible. I have had my current one over 10 years and it's been dearly loved. I feel like it's time to start loving on a new Bible and forging a new path of my faithful journey through its pages. 
I will be using a chronological reading plan to read the Bible in the fast method and I will be reading 1 Samuel as my slow reading. I will be using 4 different commentaries I found to read along with this book:
I keep a notebook by my side while reading and often jot down scriptures I want to transfer into my Prayer Binder. I write everything faith-related into this notebook, including sermon notes, and notes from my conversations with my spiritual mentor, Miss Craig. I had the cover designed especially for this notebook. You can grab one for yourself too!
If you haven't seen my other videos where I have shared my creative style of journaling and notetaking, you can do that here. You can be as simple or creative as you feel when filling up your faithful notebook!
Also in 2019 my faithful word for the Year is ONE. It's the word for the Faithful Life Club as well and how this came to be was totally inspired by God, which you can listen to the fun story here.
I will be encouraging all the ladies in the Faithful Life Club to keep up their reading this year, along with our free Scripture Writing Challenge. If you haven't joined the Club yet, we welcome you with open arms! Also, if you are into Podcasts my friend Tracie and I talk all about Jesus and Christian life here. 
May your 2019 be blessed and all your faithful goals be met!
Love, Cori