Hey there friends! It's Alyssa Duncan, coming to you as a guest designer here on The
Reset Girl blog this month! I couldn't have been picked to be a guest designer at a
better time: the products right now are amazing!!! Every month I think Cori couldn't
possibly come out with cuter stuff and then it just keeps coming!
A little about me before I show you all the project I created. I'm a wife to a hunky
hubby and momma of two amazing kids. They're one of my biggest inspirations for
my memory keeping. I scrapbook, memory-keep, bible journal, and do all sorts of
papercrafting goodness to keep my creative heart a-pumping. I am also very active
in my church, from leading worship to teaching the K-5th graders, I love learning
about God and serving His people as much as I can.
This brings me to my project for this week; a bible journaling page. We started a
new series at church after the start of the New Year, called Reset. As soon as I heard
the title, my mind immediately went to Cori and her whole message; it's never too
late to reset your life. The Reset Girl's products are seriously the most perfect thing
to bible journal through this series. And, bonus, since it's the start of a new year, I
got to start a new bible! There's just something about working with a fresh book,
yah know?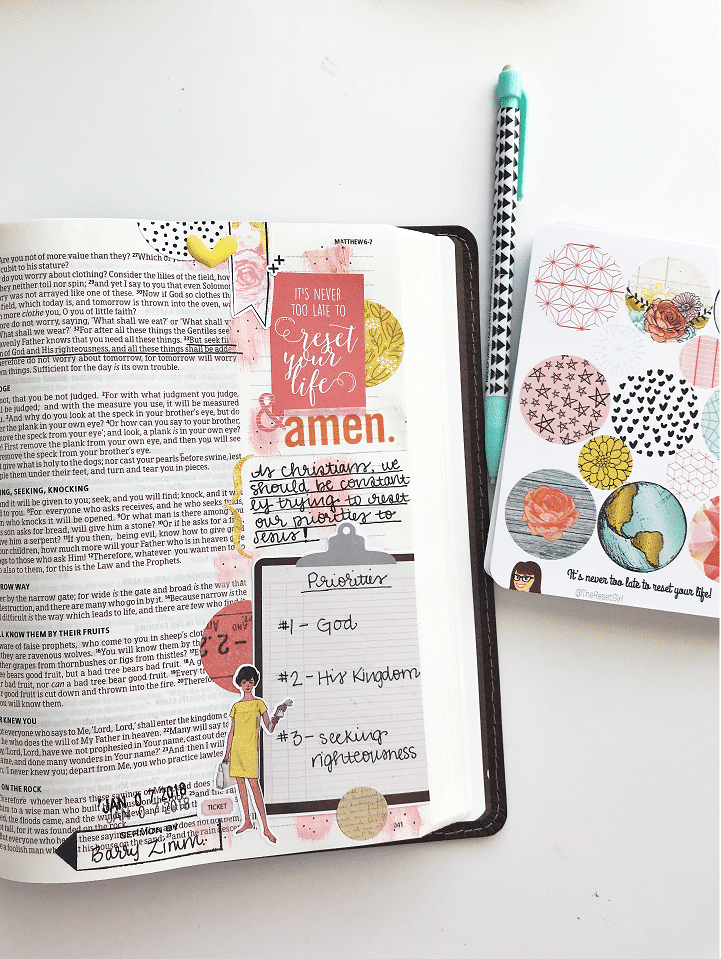 I take notes during church, so I gathered those notes and as many Reset Girl goodies
as I could find, my basic tools (black pens, washi, black ink, acrylic block, etc.), a few
acrylic paint colors, and some extra embellishments. I started by swiping several
dashes of a light pink acrylic paint as a base layer in a type of pattern. I then took a
fine black pen and dotted over each of the pink patches.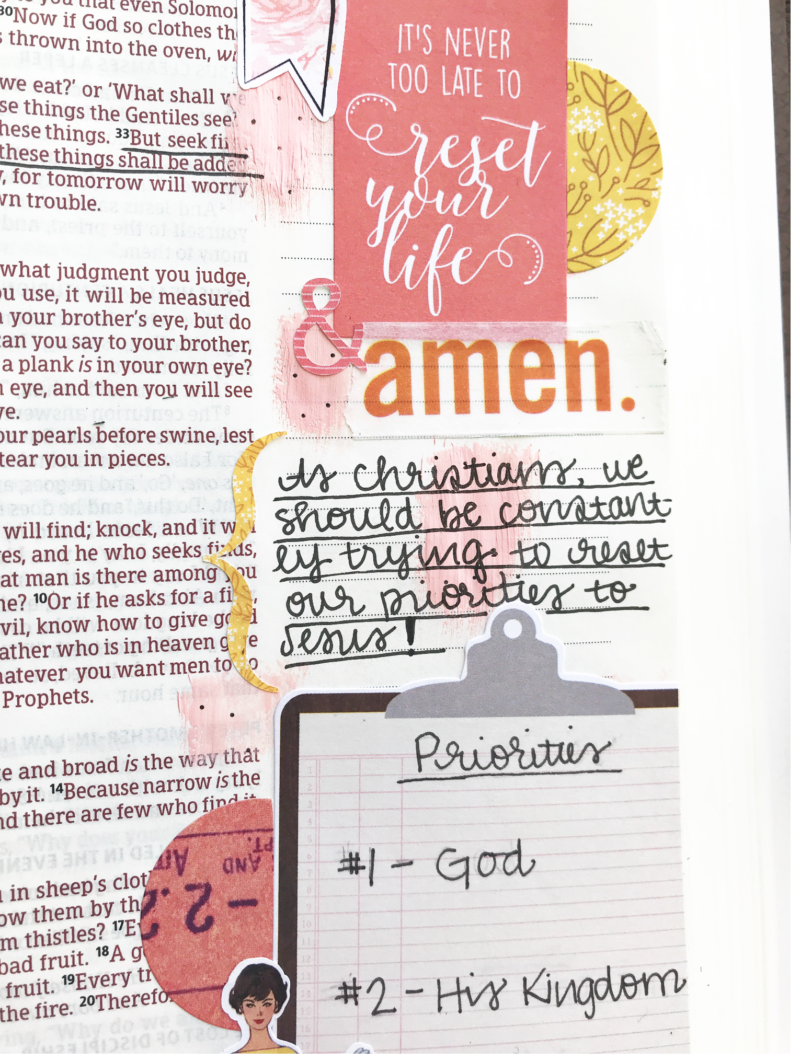 I started out by placing the clipboard (which was from the Simple Stories Reset Girl
line) and the "it's never too late to reset your life" sticker (also from that line). Then
I added the ampersand (from the Meaningful Kit) and the "Amen" washi strip, which
I just thought perfectly summed up that sentiment. I then added my journaling, both
on the clipboard and above it, which were both notes from the sermon.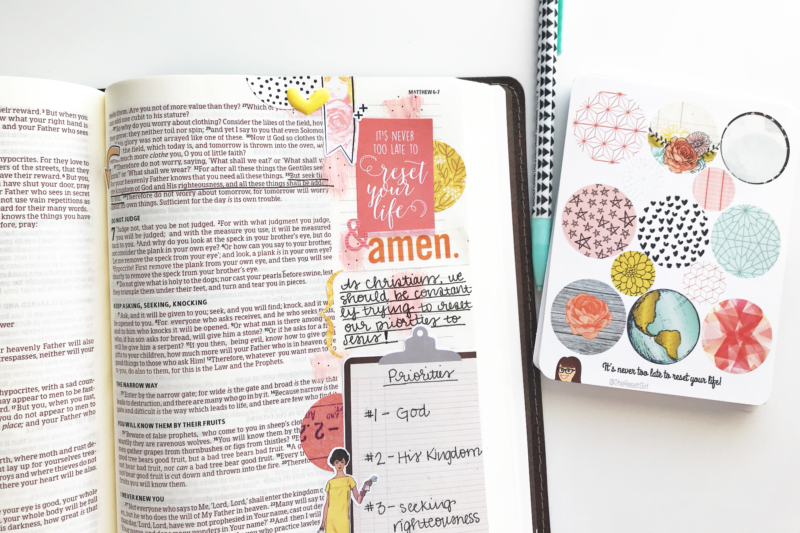 The few final touches included several layering circles (some cut in half to fit in
certain spaces), a bracket from the Honey Girl Sticker Co's fantastic bracket sheets,
a floral banner from the Meaningful kit, a yellow heart near that banner to make a
little cluster, a Honey (because, DUH!), and a sermon by and date stamp at the
bottom. When I started this page, I was afraid I had lost my touch, but it all came
together so nicely and conveyed exactly what I was hoping to convey.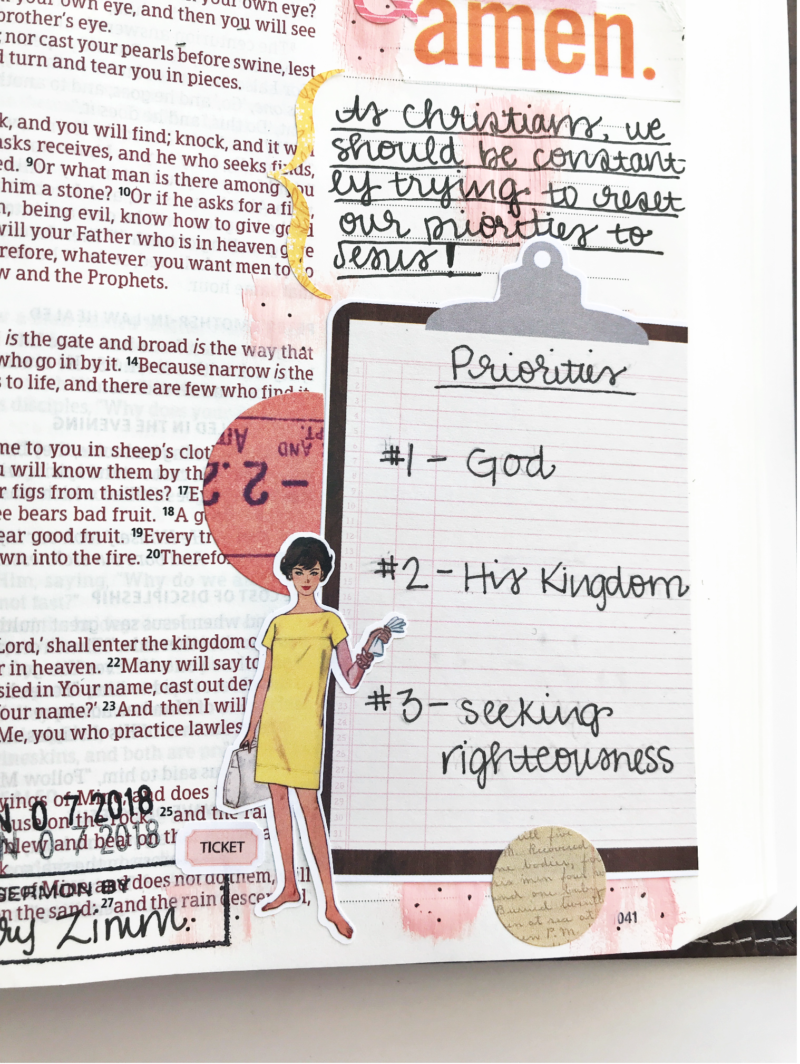 Sometimes in our life, whether it is after the new year or halfway through, we need a
reset. When that reset comes, it's always best to make sure our priorities line up
with God's priorities. He knows far better than we do about what will bring us
peace, joy, and down the path we are meant to go down.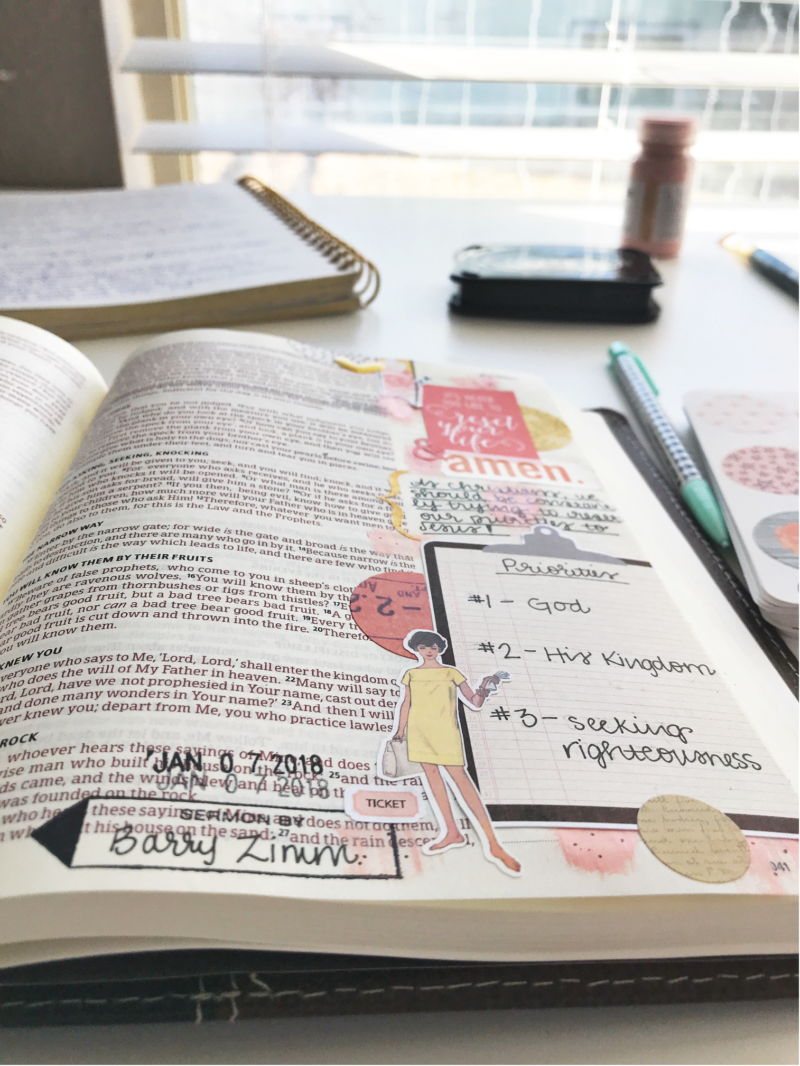 Thank you so much for letting me share this page and my thoughts with you!
Lots of love,
Alyssa