Hi there, my name is Damaris and I have the honor of joining The Reset Girl crew as a guest designer this month.  How awesome is that?  Very!  Before I get into my crafty shares today, I'd like to open up with a little bit about myself. 
I am originally from NY, married 11 years and have a 7 year old son.  I am a full time employee for a PEO company; simply put, I host online webinars showcasing our technology to prospective clients… crazy position for someone so shy and introverted.  On my spare time I enjoy swimming; living in Florida allows me more time for this activity.  Movies, and more recently – all of the interesting Netflix series' have been something I've gotten into.  Reading – my current book is "The Joy of Less"; it's taking me all year to read because as soon as I get through a chapter or even a paragraph, I'm up on my feet gathering handbags and mugs to donate or trash.  It's really a great book!  I like journaling, planning, photography and also am in charge of the event coordinating at my local church.  I love party planning!  And then of course, crafting. 
I've always had a desire for paper creations, but it wasn't until 2006 when I moved to Florida, that I discovered a nifty little store called Michael's.  Even though that store existed in NY, I had never heard of it.  I was surrounded by so many pretty supplies and I couldn't understand why I was so drawn to all this stuff that I had never seen before.  For a while it felt like I was alone in the scrapbooking section.  It wasn't until later (circa 2007-8'ish) that I came to find a craft community full of wonderful people (just like me), that actually liked to play with ink and paper and stickers.  This prompted me to start my own blog and join the adventure.  I was amazed at the acceptance via YouTube and the blogs.  Throughout the years, and my social media outlets, I've been able to connect with, correspond with and physically meet many amazing ladies from all around the world; and was elated that I had found a culture of people that also invested time and money in their favorite hobby, and understood my obsession. 
Which leads me to now…
Today…
What an amazing treat I have to design for Cori this month.  I really love the brightly muted colors, and the fun patterns of the Meaningful collection.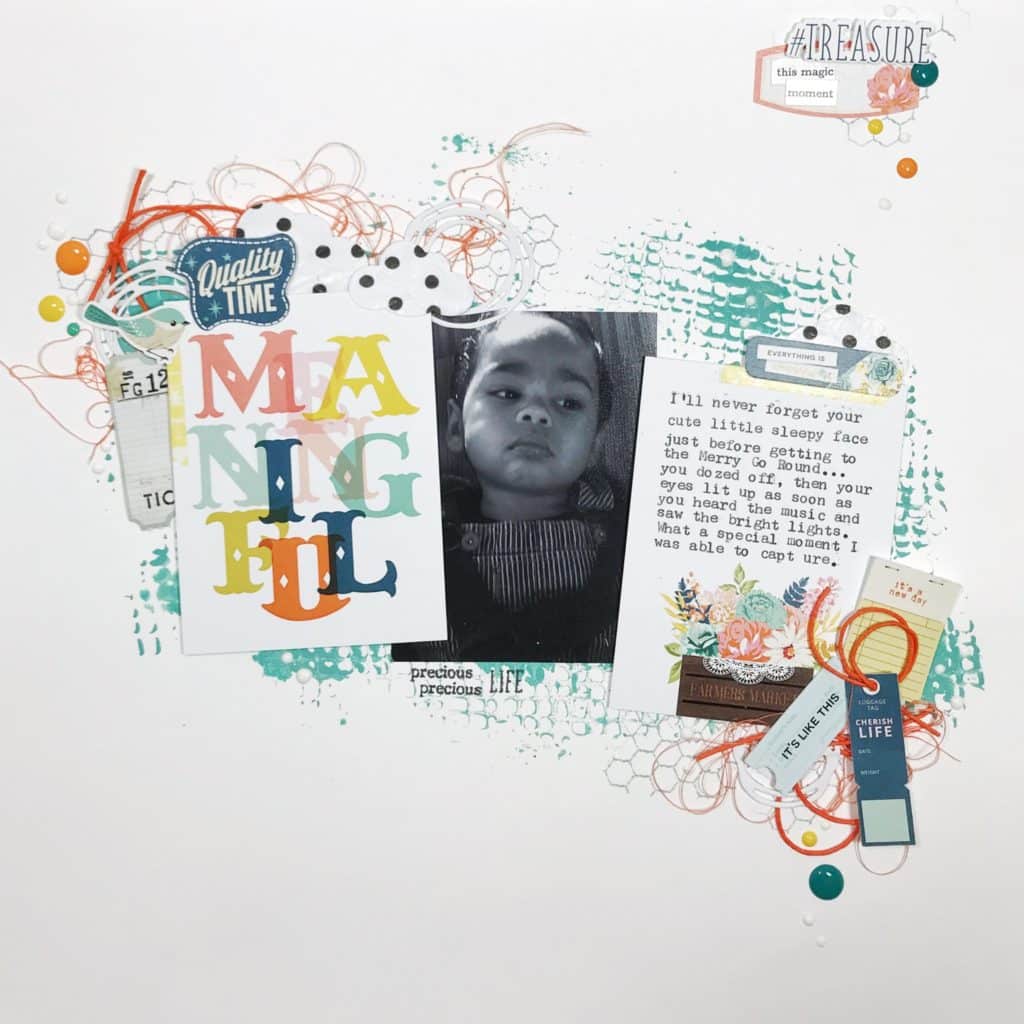 For my layout, I had a mental sketch to work with, and began by choosing 2 cards from the kit; a decorative card for my title and a half blank card for my journaling.  The background was created with a stencil and acrylic paint.  I didn't quite have a shade that precisely matched the teal in the collection, so I mixed two different paints from my stash and crossed my fingers that it would match.  I love when magic happens!  Being that this was a boy layout, I tried to pull in gender neutral colors, so I opted to add orange string and twine.  I used a background hexagon stamp from my stash, and paired that with Memento "London Fog" ink.  I also used the Meaningful stamp set to add a caption under the photo; "Precious Precious Life". 
You may have also noticed the polka-dot clouds, and if not, then let's take a closer look.  I am a huge fan of stretching your supplies; which includes using your packaging.  The clouds are actually the tissue that comes in your Reset Girl package.  As cute as that tissue is, and as much as I'd like to hoard it, I thought it would be fun to implement that in my layout.  I first glued a portion of the tissue to white cardstock, smoothed it out, and let it dry for a minute.  The glue I used is Nuvo adhesive by Tonic Studios, but any liquid glue or glue stick would work for this.  Using a Fiskars cloud punch; (which – incidentally – is a punch that Cori designed the "Punchable Clouds" for – you can find that in her Print & Snip Digital Shop), I carefully punched the polka-dot clouds and added them behind my base cards.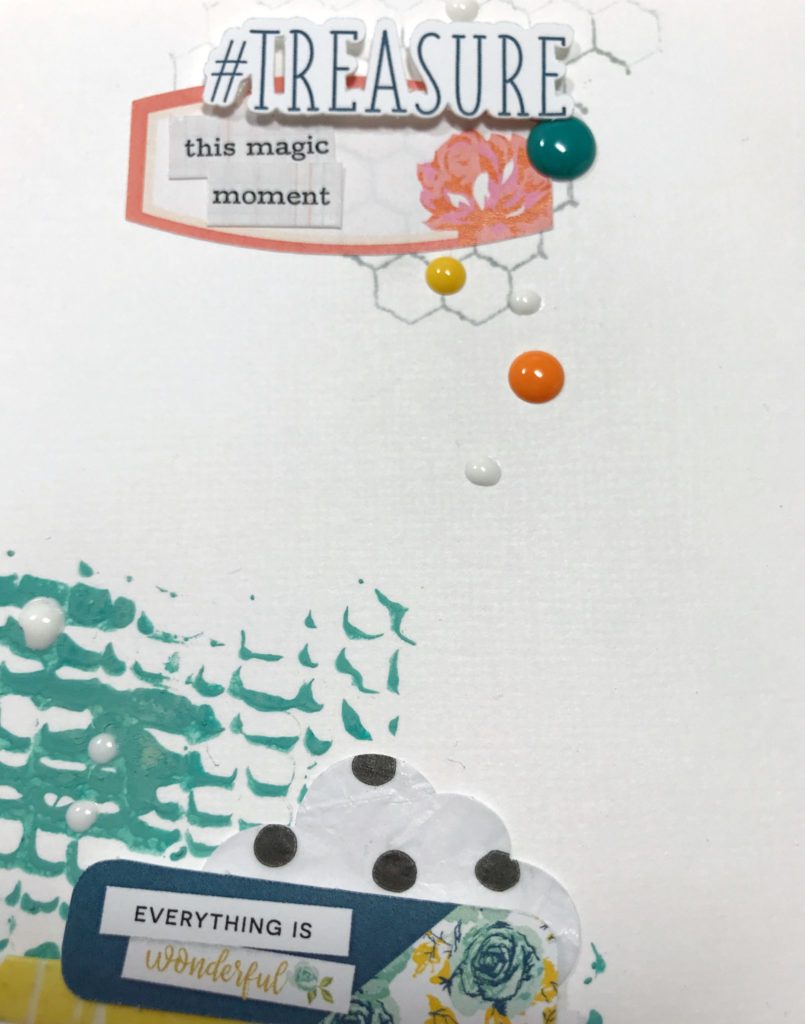 As much as I love clean and simple layouts, I also love clusters.  Clustering gives me LIFE!  It's like a puzzle, trying to fit different pieces, shapes and colors into a cohesive – yet messy bunch, so that it looks like it just effortlessly fell out of your hands and fused together perfectly on your project.  It's my favorite part of the creative process.  The cluster surrounding my journaling was made using twine & string, 1 white diecut from my stash (to add more texture and layering), 3 diecuts from the Meaningful Kit and some enamel dots.  In the top right corner I made another (smaller) cluster with more of that background stamp, some stickers and another cute hashtag diecut from the Meaningful Kit.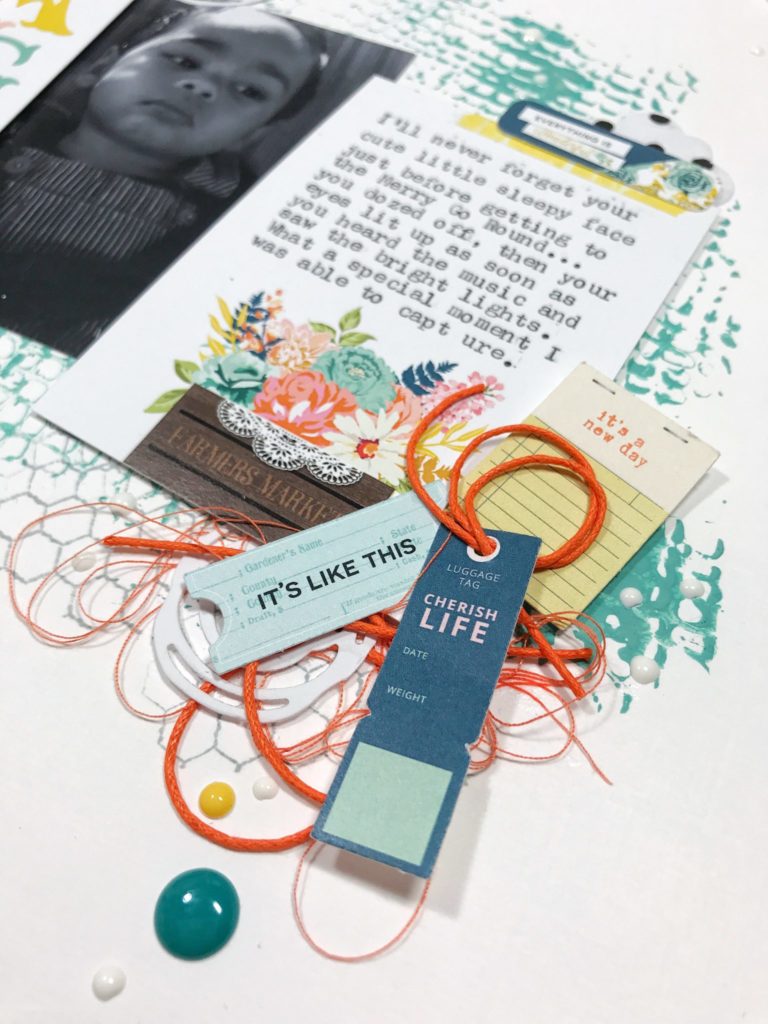 I sprinkled more enamel dots around the page, again, so that it appears to have fallen perfectly in those strategic spots; *lol*, and my last step was the Tonic Studios Nuvo white liquid drops.  Not too many, but just enough to add more interest and texture.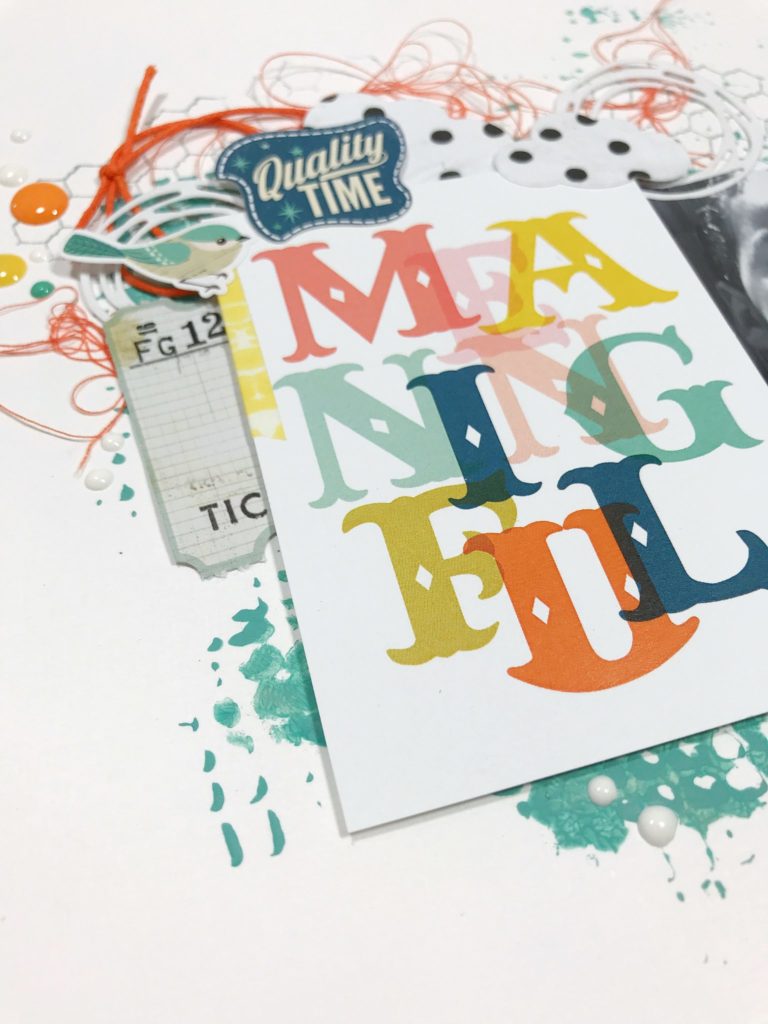 The photo itself is of my son Giovanni when he was just about a year old.  Now that he's 7, and is able to talk and has opinions on things, I'm noticing that he's growing into his own little person.  He is very smart and very attentive and detailed (like his Mama – lol), but also he's not a little tot anymore, and I almost feel like the last 5 years were stolen from me.  So I make it a point to spend quality time with him each evening, in bed, just chatting about whatever, having silly conversations and hearing his heart.  Because he was my miracle baby, and these are the meaningful moments I want to soak in and document. 
I hope you have been inspired by my story and my layout process.  As beautiful as the kits are and as much as we'd like to hoard them forever, they lose their value if they're just left in a pouch to collect dust and admire.  We benefit more from our supplies, when we use what we have while we love and enjoy creating with it!
x0, D
---
Find Damaris Here: